SOLD! 22-Month-Old Information Site (Very Low Earnings)
Update: I had an error in the total word count and number of published articles. Now corrected. 
Summary
Niche: Beauty (female-orientated)
Traffic: See screenshot below
Revenue: Display Ads (Ezoic)
Last 3-months average: $13
Last 6-months average: $18
Last 12-month average: $15
Price: SOLD!
Honesty statement: I've never been enthused by this site. This is reflected in the post count, traffic and earnings. I'm reasonably confident that this site will perform well for the right owner who can dedicate some time to it.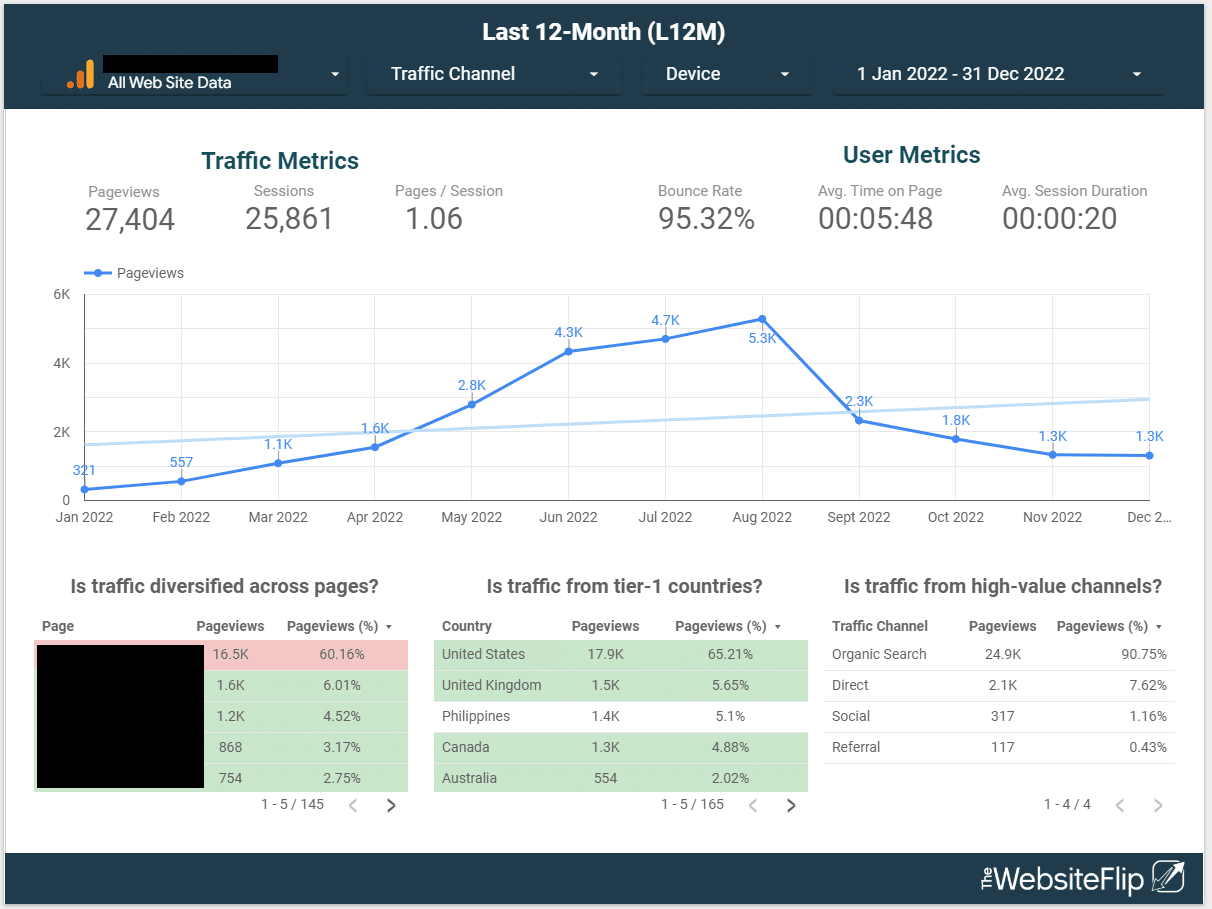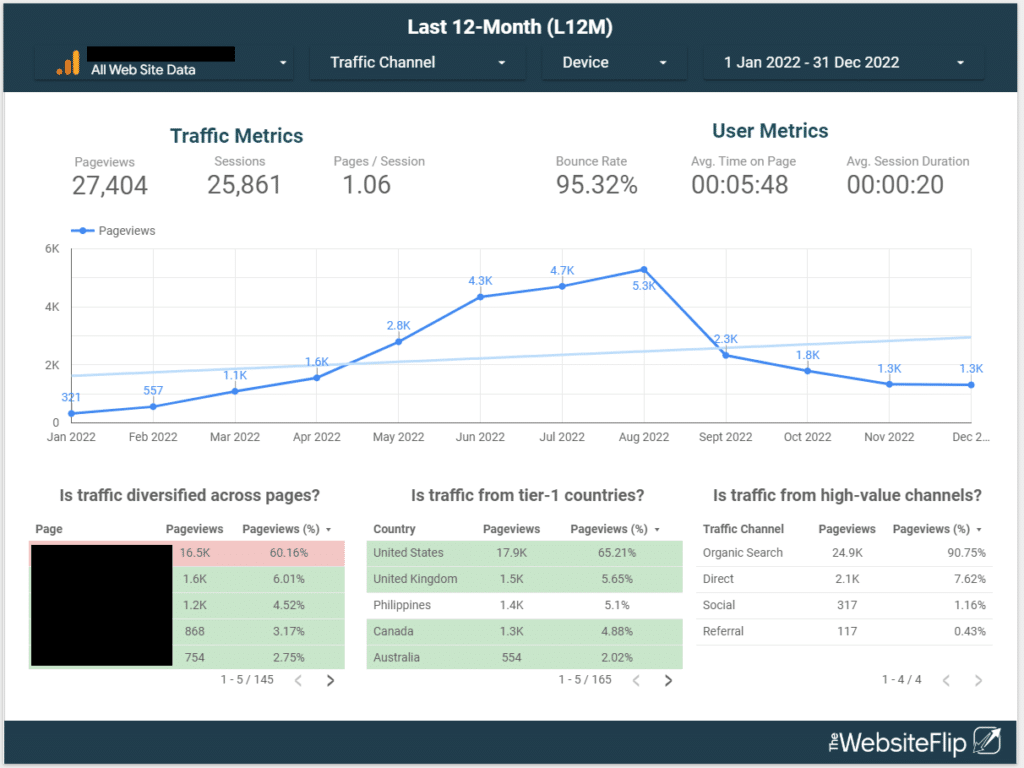 More Information
Key Highlights
Site is almost 2 years old (22 months)
Nice brandable .com domain (two words dot com)
41 articles published into about 5 distinct categories
60,855 Total word count
Real writers, no AI
Huge potential in this niche (I just didn't have the passion to drive it)
Setbacks
Site was possibly hit by the Helpful Content Update in September. While the content is all human-written, it could be improved in quality. I honestly don't know enough about the topic to know how accurate or helpful it is.
Competitive niche
Not a great EPMV (Ezoic) of $7.22
I didn't build backlinks in the traditional sense (not even HARO). I did redirect two aged domains but they didn't have much authority so this didn't seem to move the needle in terms of traffic. (I'll obviously include these redirected domains with the sale)
One article is getting about 60% of the traffic (it's also an opportunity to write more of that)
Income is solely reliant on a single source (display ads)
I didn't build an email list
Possible Growth Opportunites
Publish more content (especially on the area that is getting the lion's share of the traffic)
Build quality backlinks
There are a lot of products mentioned / reviewed with no affiliate links. (I just never got around to it)
A few weeks ago, I picked up a DR19 domain on an auction. That could be redirected to this site. Or there could be an alternative structure that might make more sense. I'll include that aged domain as part of the deal at no additional cost.
Change theme/design of the website to make it prettier and more on point for the target audience
Create a newsletter and send helpful tutorials and occasional product pitches
Create digital products (mini courses)
Identify other affiliate opportunities
Interested?
Overall, this site is probably deemed as aged in the eyes of the major search engines. By focusing on keyword research and publishing a decent amount of high quality content, I believe the site can be turned around and become profitable.
I'm just not the right person for that because I have no interest in the niche and I'm also busy focusing on my larger sites.
Only seriously interested buyers should get in touch for access the URL, Google Analytics and Google Search Console.
Valuation: It's difficult to value this site when the earnings are so low and the potential is reasonably high. The domain is clean, almost 2 years old, so most likely out of the "Google Sandbox" by now. Links and content will probably turn the site around within a reasonable timeframe. This is all only my opinion of course, I'm no expert.
I don't want to sell the site for less than what it cost me to produce the content. That's approximately $2,500 USD.
Questions?
Let me know by sending an email to keith@mintedempire.com and make sure you put "Beauty Site" in the subject field so that I don't miss it if it lands in spam in error.