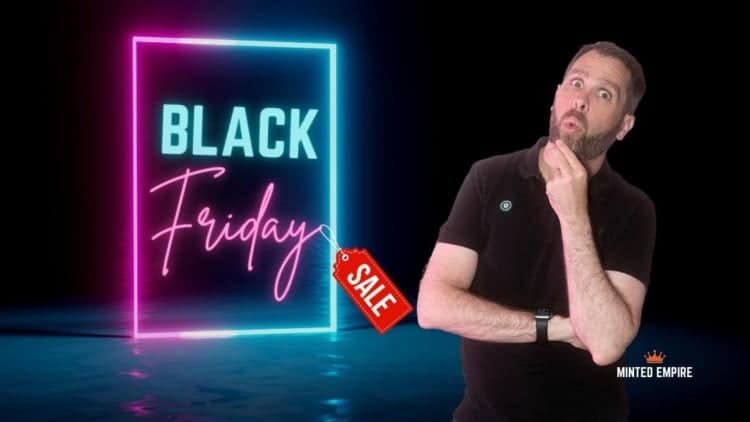 Here are the latest Black Friday / Cyber Monday deals for niche site owners and bloggers that caught my eye.
I'll only ever recommend tools that are good and that I (or some trustworthy friends) use.
Most of the links below are affiliate links meaning I'll earn a commission from qualified purchases. As always, this is much appreciated.
Let's dive in.
Stock Photos
Depositphotos is now my go-to for decent stock photos. It has replaced Pixabay & Pexels because I am tired of seeing the same free photos everywhere. Depositphotos has a massive library, and I've always found decent photos.
Course Deals
🎓 Fat Stacks – Niche Site Profits – ($594 FREE BONUS)
I've taken the course and am a member of the excellent community. Here's a deal you won't want to miss!
Includes $594 worth of FREE content from the following providers:
WriterAccess: $200 value
Nichesites: $200 value
ContentPit: 2,000 words (first 100 customers only) – $97 value
Content Refined: 2,000 words (first 50 customers only) – $97 value
INSANE VALUE!
(Opens November 22 at 9 am PT.)
🌐 The Course On Website Flipping – (40% OFF)
A decade of website flipping in a day with 6+ hours of videos from Mushfiq, due diligence reviews, templates, and more!
Bonus: due diligence PDF reports on 5 content sites​.
🌐 Mushfiq's Course On Aged Domains – (40% OFF)
Learn how he used aged domains to build and merge content sites. He shares concepts, use cases, redirect strategies, case studies, and more.
Bonus: due diligence PDF reports on 5 content sites.
🎓 Anne Moss from Yeys.com – The Content Plan Spreadsheet ($50 OFF)
Get the spreadsheet that helped Anne Moss and her hubby scale their niche sites to $180,000 a month!
🎓 Website Photography Made Easy (45% OFF)
Jared Bauman, like myself, has a background in professional photography and having recently reviewed this course, I can confirm that it gives you the 80:20 of what you need to know to significantly improve the professionalism of your photographs.
(You'll know Jared as the well-respected host of the Niche Pursuits podcast.)
You don't even need a fancy camera to get good photos. Any half-decent smartphone will do.
This course is normally $149. Get it for $81.95 with my referral link.
Google has hinted recently that they prefer original photographs for content. Getting this course will be a smart play.​
🎓 Shawna Newman (SkipBlast) Courses – (50% OFF)
Shawna is offering 50% OFF all her courses.
I've personally taken a few of them, and they're excellent.
Very thorough, with no BS. Importantly, Shawna doesn't merely teach the theory. Her courses are based on her actual practical experience. Highly recommended.
She has many popular digital marketing courses, including:
creating a YouTube channel to scale your niche site – NEW
lazy link building
topic clusters
build your own HARO team
aged domains
website flipping
& much more
🎓 Affiliate Lab – (50% OFF)
An in-depth course by Matt Diggity on how to scale your affiliate website to the next level.
It's suitable for beginners to intermediate.
Available from November 25th to November 28th, 2022 (PST).
DFY Sites and Aged Domain Deals
20% more content on aged domains, DFY websites or one-off bulk content orders.
20% more content on content subscriptions.
5% discount on all digital PR subscriptions (extra offers available).
🌐 Premium Aged Domains – ODYS Global (21% OFF)
21% off all domains only for the Odys marketplace members (Join here for FREE)
24 hours from November 25th to November 26th.
Hosting
I have most of my sites hosted on Cloudways. It's fast. Very fast.
I keep a second hosting account for new sites and also as a backup, just in case!
Keyword Research
This all-in-one SEO content marketing tool with backlink profile analysis and keyword research is reduced by 40% on their Guru Plan. You can save up to $695.
Check it out and at the very least, sign up for a free trial.​
Keyword Chef is one of my go-to keyword tools. It saves me a ton of time because it quickly grabs the SERPs for each keyword and identifies which keywords are potentially easy targets.
WordPress Themes
I use the hugely popular Generate Press on many of my niche websites. The free version works well, but if you really want to customize the look and layout of your website, then you'll need the premium version.
Popcorn theme is another great WordPress theme built by affiliate marketers for affiliate marketers.​
WordPress Plugins
This is the plugin from Spencer Haws that I use to manage my internal links. Many SEOs, including myself, believe that internal links give a strong signal that can lead to a ranking boost in the SERPs.
Friday, November 25th (12:01am PST) – Tuesday the 29th (11:59 PM PST)
‍🚀 WP Rocket (30% OFF)
Quite simply one of the best caching plugins. I've been using WP Rocket since it launched. Pun intentional.
Offer is only valid until November 26, 2022.
I use Perfmatters to optimize the speed of some of my sites. It controls which scripts and CSS files should load on particular pages, categories or for which users. This and SO much more.​
I use RankMath on all of my websites. I love how easy it is to create proper FAQ blocks with valid schema. This plugin is how I grab so many featured snippets across my niche websites.
Other Tools
🌏 Lasso – (25% OFF)
Incredible affiliate management tool.
Most people see an increase in their affiliate earnings from using Lasso.
📈 EasyWins.io – (40% OFF)
I can't say enough good things about this product. In one sentence: get this product for the ultimate blueprint to take your niche website to the next level in terms of monthly earnings. 120+ battle-tested tactics to 10X your site's traffic and revenue. Join over 610+ people using this database today.
🌏 EasyDiligence.io – (40% OFF)
45+ due diligence questions database and dashboard. This tool helps you structure your due diligence when buying sites.​
This Amazon affiliate tool should pay for itself quickly. I use it to scan my website, and it highlights the various missed opportunities due to broken affiliate links or where I'm linking to out-of-stock products. It can even suggest alternative products that pay a higher commission rate than Amazon direct.
Miscellaneous Lifetime Deals
☀️ AppSumo Black Friday Deals (Expiring Soon!)
On this page, you'll find the most popular (and soon expiring) Black Friday deals available. Many of them are lifetime deals.​
Did I Miss Any?
Sorry if I missed any good SEO Black Friday deals for web publishers or niche website builders. Reach out and let me know!