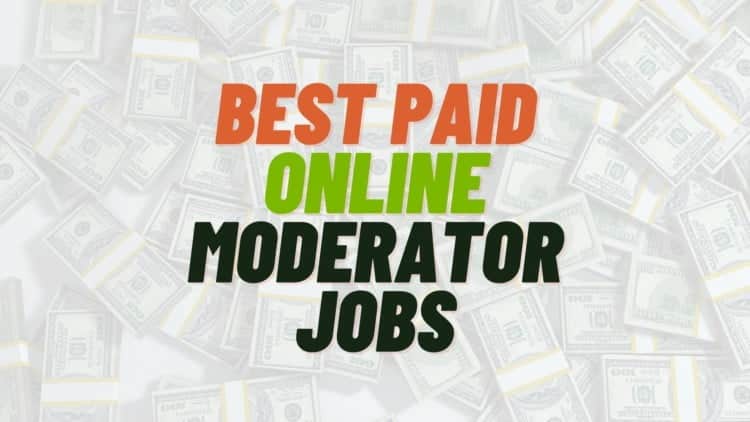 Have you ever been on social media and thought, "This page needs a moderator!" Well, there might be a job in it for you! Online moderators keep the online world moving.
What is an Online Moderator?
If you've spent any time online in the past decade, you've probably had some experience with online forums. But, let's just be honest–the internet is a little bit of a mess.
There are millions of websites, and users from all over the world meet up based on their location or their interests. They come together to share their knowledge or experiences, to socialize–and occasionally throw insults.
Some websites are free-for-alls where anything goes. Others are curated to foster a more positive environment for all participants. That's where you come in, perspective moderator! There are companies out there that want to keep their social media and website forums clean and fun for everyone. However, they also want them to be full of useful, curated information. That means that they need somebody to keep a close eye on it all.
You see, keeping a big web forum in-line is a big job, and it's not only about keeping the trolls in check. Here are just a few of the big tasks that paid online moderators do.
Follow up with participant's comments
Fact check posts to ensure accuracy
Answer questions via email, chat, or forum messages
Deal with complaints
De-escalate situations
Search engine analytics and marketing strategy
One important thing to realize is that each website is unique, and they all use their forums and chat services in different ways. That means that while the tasks that online moderators perform are pretty uniform, some websites may have different job descriptions or tasks they need to be completed.
In some instances, online moderator jobs are more like chat support associates. In others, you may spend all your time managing the company's social media accounts.
Online Moderator Tasks
Overall, an online moderator seeks to answer community members' questions and ensure a safe, positive community for all. Online moderators work for a client and must represent that client with a professional attitude.
Online moderators are responsible for helping drive sales and service and encourage positive attitudes toward the client. For example, if you are moderating a forum about sewing machines, you can encourage those who share successful project photos and help posters with questions about the machine's maintenance.
You might point some community members towards help files or answer questions yourself. You might need to step in and remind community members about the community rules if they are posting off-topic information or violating community rules. If you have a community member who breaks the rules, you might have to contact them and explain the rules. If the member keeps breaking the rules, you might have to remove them from the community.
Online moderators respond to community members' comments. If a community member posts a picture of themselves enjoying your client's product, you might thank the poster for sharing and provide an encouraging and supportive comment.
If members have questions about your client's product or service, you'll chime in and answer the questions.
Online moderators often have to deal with difficult situations. An unhappy customer might share exactly how unhappy there are. As a brand representative, it's a moderator's job to help the customer while maintaining a positive community. This often means getting that person in touch with the department or person at the company that can help them most.
Moderators must also know when and how to escalate situations to their managers or even to law enforcement.
Moderators pay particular attention to ensuring that children are safe online. As a moderator, if you have any concerns about a child's online safety, you'll be expected to escalate the concern immediately.
Skills Required to Be an Online Moderator
The biggest requirement to becoming a paid moderator is possessing above-average communication skills and having a knack for online and social media interactions. You'll need patience with community members. You'll need to be able to respond to questions, concerns, and inappropriate posts quickly.
It also helps to keep an open mind and be good at conflict resolution, especially on some forums that can get testy. Obviously, level-headedness is a good quality for an online moderator.
Beyond that, most of the skills required are similar to those required for any work-from-home or online remote job. You need a working computer and high-speed internet. You'll generally be able to set your own hours and the amount you want to work, but this will vary greatly depending on how the company organizes its moderators.
If you're the company's one and only moderator, you're likely to be "on-call" a lot more than someone in a larger corporation with a bigger organizational structure. Frequently, moderation is needed on weekends or evenings, so be sure you can meet the client's availability requirements.
One of the biggest plusses of becoming an online moderator is that the job is often done as an employee for an agency or the primary company. That means that while you may find many remote work possibilities, you don't have to worry about setting up your own business and finding your own clients.
There certainly are freelancers who work in social media management to do online moderation. But most of the best paying gigs will be working as full or part-time employees for a larger firm.
How Much Do Online Moderators Make?
Different websites have varying requirements for their online moderator jobs. Consequently, they have very different pay scales.
Most online moderator jobs are part-time at best and pay per hour. Expect the regular pay scales to fall between $9 and $20 per hour, with high-paying jobs being the exception. If you work full-time, you could expect an annual income from online moderating to be somewhere between $20,000 and $40,000 before taxes.
Moderator Training
Moderation Gateway provides online training to moderators. You can take a self-study course and gain a certificate of completion. This training course offers five modules.
Training includes an overview of moderation and reviews moderation methods such as pre and post-moderation. In addition, the training discusses online child protection and escalation. Learners will also review moderation trends and moderator characteristics.
Best Places to Find Online Moderator Jobs
With the increase in work-from-home and remote work opportunities, you'll find new online moderator jobs popping up online all the time. Since this is a "classic" remote job opportunity, if there is such a thing, you'll find these jobs posted regularly on many job boards like Indeed.
It's important to note that not all moderator jobs are remote! For example, some companies use their headquarter employees to perform these remote tasks. As such, you'll want to double-check before applying if your goal is a remote career.
ICUC is a leader in social media management that has been around for almost two decades. Many big companies use their services for their social offerings, including Target, Virgin Mobile, Air Canada, Chevron, and Wendys. These major companies trust ICUC to take care of their social media management needs.
Of the many services they offer their customers, moderation is a major component. ICUC is a global company and offers moderation services 24/7. Moderators might work directly with the client company or as an agency partner.
Starting pay is around $11 per hour, and they've always got a few openings advertised on their site. Job opportunities are 100% remote, so you can work from home or wherever you are.
ICUC offers positions that are part-time as well as full-time.
The Social Element is a diverse, women-founded, and women-owned company. 70% of their team are women, and the team members represent diverse age ranges. The Social Element is value-driven and wants team members to grow, learn, and contribute to the team while having fun.
Most Social Element team members work from home and collaborate across the globe. Team members are based in 46 different countries and represent 50 languages. Social Element's location diversity enables them to offer 24/7 support to their customers.
Social Element aims to help brands connect with their customers in meaningful ways. They hire social media managers and moderators. Moderators are thought of as "knights in shining armor" who protect client's reputations and brands.
Social Element hires moderators and community managers as freelancers who work project-by-project. Moderators work on a casual basis when needed. Some moderation jobs with Social Element require as little as four hours of work a week.
Social Element moderators check comments, images, and videos. Moderators escalate content and respond to complaints as well as positive comments.
Social Element partners with Moderation Gateway to offer training for their moderators.
Crisp Thinking offers risk management and detection services. Their online risk analyst contractors work throughout the globe. Risk analyst contractors identify online content risks for Crisp's clients. They currently have a waitlist for contractors, but you can join the waitlist, take a skills test, and be notified of any new openings.
Consistently rated as one of the top workplaces, Khoros has offices worldwide and hires remote workers. They work with companies like AAA, Visa, and Samsung–so you know they're the real deal.
Khoros isn't just about online moderating–they work with their clients to manage the entire customer experience (CX). That includes strategic services to design up social media and website solutions and professional services to implement those or other solutions. Khoros has offices all over, but their main hub is in Austin, Texas.
Yelp connects the community through reviews. Yelp hires part-time employees as Community Ambassadors. Yelp hires community ambassadors who live in particular communities. So, if you live in Miami, you'd be able to apply for a Miami community ambassador position.
Yelp community ambassadors plan in-person and virtual events. In addition, they connect with Yelp reviewers and business owners through Yelp and other social media channels.
Community ambassadors partner with local events. They act as the voice of Yelp in their community and act as an online moderator.
Community ambassadors must reside in their community, have transportation, be available for 15 to 19 hours a week, and be over 21.
If you guessed that "mod" is short of moderator, congratulations! Mod Squad works with remote-working moderators, which means you can apply from and work from anywhere you like.
Mod Squad works as an intermediary to put you in contact with clients from some of the best brands in the world. You'll work with other mods who work from home, but as an Uber driver, you'll work as separate independent contractors. Whatever you want to do, you can sell it through Mod Squad–online chats, moderating forums, or social media management.
Quiip is an Australian company that needs Aussies to fill their job opportunities, but you do not need to live in Australia to work for them. If you meet the basic qualifications, Quiip is an excellent company to work for. They offer premium career benefits, job flexibility, and lots of growth potential. Plus, their careers include great perks like annual company beach retreats, volunteer opportunities, and continuing education benefits.
Their entire business is built around social media community management and monitoring. They also provide training and support for their customers.
BabyCenter is a site that is committed to hosting the best and most accurate information about pregnancy and parenting on the internet. As such, they have a constant need for moderators to help them maintain the highest quality content.
BabyCenter runs the website, but also iOS and Android phone apps and multi-lingual international sites. They post their openings on their LinkedIn page.
LiveWorld works with businesses in several key industries. They specialize in pharmaceuticals and healthcare, financial service, travel and hospitality, retail, and consumer goods.
They offer moderation services, but they also offer adverse events management, social media strategy, and social customer service. The company's core mantra is that "humans beat algorithms."
LiveWorld hires Social Media Agents. Agents check social media posts and take action, such as responding to posts, tracking posts, or escalating costs. In addition, social media agents respond to questions. You should be able to respond on the fly and actively engage with users.
Social media agents might use a CRM system to find answers to customer's questions. You'll identify different trends and issues and report on them. Fast typing, the ability to connect with people appropriately, and good written language skills are needed.
In addition to high-speed internet access, agents should have a dependable phone. If you speak multiple languages, that's a huge plus!
Upwork is a well-known website that connects freelancers with open positions. Upwork has various moderation jobs for you to search through. Moderation jobs found on Upwork have a variety of hours, experience needed, and contract duration.
You might find a moderator position that requires 30 hours a week and lasts for 3-6 months. Or, you might find a long-term job. Just check out the current openings and see what would suit you.
Several of the open positions want freelancers who are able to help clients over live chat.
Gaming and Bingo Sites
Zynga is an online gaming community, and you've probably played one or two of their games. Popular games include Words with Friends, Wonka's World of Candy, Solitare, Harry Potter: Puzzles and Spells, Farmville 2, Candy Pour, and Boggle with Friends.
Zynga has a variety of chat rooms and forums in its gaming community. In addition, this extensive, global brand often has moderator positions available. So if you love games and having fun, check out Zynga.
Tombola is an online gaming platform. Users can play different types of bingo and arcade games and engage in chat forums. It's the largest online bingo site in the United Kingdom and has a large presence in Europe.
Tombola hires chat moderators to help with bingo and arcade game chat rooms. Chat moderators should speak English, but a second or third European language like Dutch, French, or Spanish might be required.
Before getting to work, you'll go through two weeks of training. Moderators are expected to be lively and fun and help create a great experience for gamers. You should easily engage in conversations in the form and be available to chat with gamers. Tombola is an attractive moderator position, as they hire full-time workers and give benefits. Benefits include paid holiday time and healthcare.
Chat moderators lead and participate in conversations, answer questions, and encourage participation. In addition, moderators welcome new chat members and congratulate game-winners.
Other gaming sites looking for online moderators include Bingo Port, Jackpotjoy, and Virtue Fusion.
Final Thoughts
Online moderators keep a brand's website and social media accounts civil and working smoothly. A wonderful thing about this job is that any company that takes the position seriously and hires employees to fill it will understand its importance. Having moderators instantly improves their online presence and customer experience.
Online moderators make good money, and it's an excellent career path. There is even professional growth potential by learning more about social media management and other customer experience work.