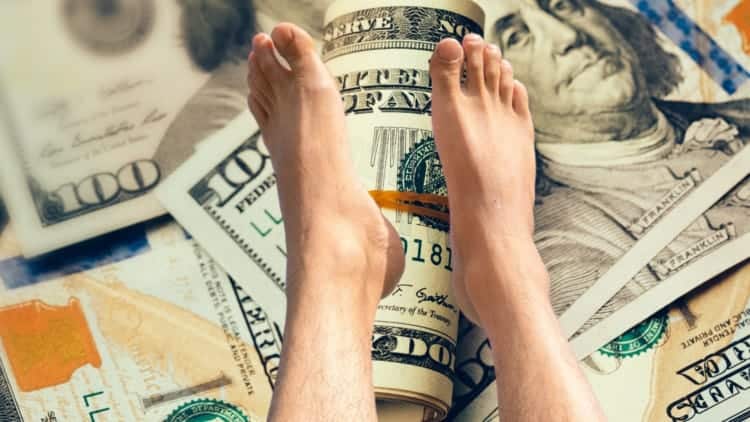 There are all sorts of crazy-sounding schemes to make money online. It seems like every time you make another click, someone is trying to convince you of something. Each one gets more and more outlandish. The latest craze in work-from-home easy money? Selling feet pics.
Yep, you read that right. Selling pictures of your feet online is being marketed as a serious way to make money. And why not? Everyone has got two of them, and what else are you using them for?
Let's put our best foot forward and investigate this online craze, but while keeping our feet planted firmly in reality. First, we'll look at how to sell feet pics online, and second, find out if there's anything to it.
Is Selling Pictures of Your Feet for Real?
The short answer to the question is "yes." But, as is the case with nearly all work-from-home and online money-making schemes, the devil is in the details. Is it an easy and quick way to get rich? Nope, definitely not.
Selling photography online is certainly nothing new. Professional photographers sell pictures of all sorts of things online. Massive stock photography sites like Shutterstock or iStockPhoto have millions of searchable images. Each one was submitted by a creator, and every time someone downloads an image, that creator gets a payment.
If you search those sites, you will find lots of pictures of feet. This means lots of people are getting paid, assuming the photos you see are getting downloads.
So the next natural question is, why feet? Stock photography sales are all about finding a niche market and zeroing in on it. So the first thing you have to come to terms with is the market for your photos.
Who do you sell feet pics to? Well, when you sit down and think about it, the possibilities are pretty endless. Here are just a few people who might be looking for quality images of feet.
Photo buyers for advertising campaigns or magazines
Shoe, sock, and stocking manufacturers
Nail polish and makeup companies
Salons that do pedicures
Articles and blogs about walking or running
Medical publications or articles
Ads for foot-care products
Flip-flop or barefoot photos target beach vacations or summer activities
Anything with the theme of moving on, or moving forward in life
Artists or painters need reference images for their work
Anyone with an interest in feet
Fetish websites
After reading through this list, you'll undoubtedly notice that there are numerous niches you could work in involving feet. It's all about context. Barefoot or flip-flops say a day on the beach. Hiking boots in the wilderness elude to outdoorsy adventure. Two pairs of bare feet poking out from under the bed covers? Well, you get the idea.
Perhaps this is the power of foot photography. Yes, feet are a limited subject. But with a bit of imagination, is there anything that foot pictures can't communicate? And they do it with a level of anonymity and universal appeal that full-body pictures cannot.
Is Selling Feet Pics a Full-Time Job? How Much Money Can You Make?
Are you still waiting for the other shoe to drop? What's the catch, you ask?
The key to selling any photo online is to get your pictures in front of potential buyers. Taking the images is the easy part. Marketing them and closing the sale–that's where the money makers excel.
Can anyone make money selling feet pics? Probably not. You're probably getting the vibe already that selling feet pics is a business opportunity, with all the work and risks associated with a business opportunity. To be successful, you've got to be really passionate and dedicated to the business of selling feet pictures. If that sounds like you, you're in luck.
These days, it's increasingly common for people to have multiple side hustles. For most people, feet pictures probably fall into a fun gig that they can put a few hours per week into and make a couple of bucks. However, if you want to strike it big selling any photo online, you've got to be mindful of how much you put into the endeavor. It's very easy to dedicate a lot of time for little payoff.
As side hustles go, selling pictures of feet is a pretty good one. Once you've figured out how to sell feet pics, you can do it from your own home with equipment you likely already have. It involves a high level of creativity but has no actual startup costs or other barriers to entry.
The exact rewards are harder to pin down. There are claims of individual foot photographers making tens of thousands of dollars per year, as much as $70,000 in one case I found. These are certainly the exception to the rule, but it's not out of the realm of possibility.
Indeed, it might not be long before that person is earning 6 figures online from selling feet pics. What a time for us to be alive!
One of the best things about selling photography online is that it is a form of passive income. Once you've uploaded the photography and done the work, the photo should sell itself. And it won't just happen once–a popular photo that hits all the right chords will sell again and again.
For example, even on low-paying stock photography websites, if you have one photo that sells 2,000 times at $0.50 a piece, that's $1,000 from one photograph. If you can repeat that performance over a few dozen photos, you're making some excellent money for very little work. And once you've got the photos online and they are selling, you can either stop working or continue for fast growth of your income.
How To Sell Feet Pics–Where To Start Online
Websites Specifically for Feet Pics
The best way to sell foot pictures is to find a site devoted to the craft. There's enough demand that several companies have created an entire business out of finding creators and buyers and putting them together. And since all users come to the site for the same purpose, there is a high chance that your photos will get seen by paying buyers with less effort on your part.
For legal reasons, you'll probably need to be an adult to sell feet pics online so this might not be a suitable online job for teens.
Some of these sites pay as much as 80 percent of royalties to their creators, which is unheard of in the regular stock photography world.
There are many advantages to these sites, but in short, they make starting up a foot photo business easy. They handle security and privacy issues, as well as a lot of the marketing and payment issues.
FeetFinder is a stock photo site just for foot pictures. You upload your photos, and FeetFinder connects you with buyers from all over the world. Like other stock photography sites, FeetFinder requires time and research in the keywording of each picture. Buyers have to find your images to buy them, and you have to set the right keyword to get them in front of buyers.
Instafeet is a social media network geared explicitly toward selling feet photos online. Once you sign up and add some photos, you set your own price. You can then continue adding photos to increase your audience.
Check out these sites for full information. In business terms, these sites wait on you hand and foot!
Selling Feet Pics on Social Media
You can sell foot photography on social media, but the path to success is less clear-cut than with other sites. The power of social media lies in its ability to connect you with potential customers. Hashtags and special interest groups can help you find the right people. If you can get high-quality images in front of the people who will pay for them and then make it easy for them to pay for them, you've got yourself a successful business.
The two most prominent social networks are probably the best places to start. Both Instagram and Facebook have ways for you to set up a business account. And their powerful advertising algorithms and broad audiences mean that with a bit of tinkering, you can find your customers easily. Facebook, in particular, has groups of users selling feet pictures, and you can find loads of information and tips for those who have been successful.
The best advice with social media business plans is to use the platform that you are most comfortable with. If you're already a user, you're more likely to understand how to use the platform to connect to buyers. You might be tempted to join every platform there is, but this generally is too much work for too little payoff. It's better to concentrate your efforts in one place, at least in the beginning.
Here are just a few of the social networks where people have successfully made money selling feet pictures.
Facebook
Instagram
Snapchat
Discord
Tiktok
Zazzle
Tinder
Pinterest
Classifieds and Listings Websites
Everyone knows about sites like eBay and Etsy, which allow you to sell goods online via your own web store. However, selling on these sites means you are going it alone–you'll have to set your own prices and figure out exactly how and where to market your products.
The only problem with pursuing this path is that it's easier to run afowl of each sites terms of use. You'll also want to be extra careful to maintain your privacy should you go this route.
Sell Through Your Own Website
You might be wondering–why not set up a foot photo selling website of your own? Of course, you can use your blog and website to sell photos, but more often than not, these sites point buyers to your primary marketplace.
No matter how you organize your business, having a good quality web portfolio is an important step. It shows off your best work, and it adds a layer of credibility. Plus, having your place on the web goes a long way towards establishing your brand and reputation.
Portfolios range in size and complexity from simple photo galleries with samples to elaborate web stores with checkouts and complete image catalogs.
If you want to make your website the primary sales avenue for your photos, you'll need to spend time ensuring that customers can find the website and get the photos they're looking for. In addition, you'll want to invest heavily in advertising and a social media presence to drive customers to your site.
If you're posting your work online, you'll also have to spend some time to deter scammers and thieves. Yes, people will copy your pictures and never pay you for them. You'll need to block the save and download functions of their browsers. You'll also want to watermark your photographs if anyone tries to pass them off as their own. These are little things that foot photography and standard stock photo websites do for you to protect their interests and yours.
Many companies will help you set up a portfolio or e-commerce website with minimal effort. Contrary to popular belief, you no longer have to be a web designer to make a beautiful website. There are dozens of website builder companies that use professionally designed beautiful templates. But you can still customize the site to make it entirely branded and unique.
If you want to sell directly from the site, it's worth looking into builders that make sites for professional photographers. Specifically, you want one that allows for selling digital downloads and handles licensing and billing.
A word of caution about foot photo sites that specifically target the fetish market, however: many web hosting companies and payment processors like PayPal put their foot down and shun the buying and selling of adult content. So you definitely want to double and triple-check their operations policies to ensure your account doesn't get locked or closed without notice.
Here are just a few sites that enable you to get your own website up and running in no time, but you'll have to foot the bill.
Wix
Pixpa
Squarespace
Weebly
WordPress.com
Stock Photography Companies
Selling photos to stock companies isn't complicated, but you can't expect big payouts. Most stock companies pay about 25 cents in royalties every time a photo is sold. Sometimes, a customer will want to use a photo in a much bigger project, so royalties are more considerable. It's possible to make over $100 per sale, but that is extremely rare.
The biggest problem to overcome on these sites is the amount of competition you have. There are thousands of photographers working on each one, so the companies can handpick which photos meet their standards and which do not. They can also reject a photo simply because they don't believe it will sell well or because there are already many similar images available.
Stock companies are populated mainly by professional photographers, which means the companies can demand technically perfect photos. The lighting, composition, and exposure must be top quality even to consider selling on these sites. In most cases, you can sell images taken with a smartphone as long as they are technically perfect.
To begin selling with any of these companies, you'll have to get approved as a contributor. The approval process usually involves submitting a collection of your best photos for review. All of the companies have extensive help forums with tips and tricks for success on their platforms.
Once you're approved to start selling, you've got to keep uploading content. The more content you submit, the more chances you have to sell it.
The biggest contributor to success on stock photography sites is your ability to make your images findable by the people who are looking for them. This is primarily done by keywording your images well. It's not as easy as it sounds–using keywords like "foot" or "barefoot" are no-brainers, but what if the buyer doesn't even know that's what they want.
These sample keywords are likely to bring up every other foot picture in the database, as well. You should use them, but you should also dig deeper in your keywording research to come up with more abstract ideas. Think about adding concepts to your keywords, like moving forward, making progress, meeting goals, or staying grounded in reality.
Be aware that most stock companies will not pay out your earnings until you make more than $50 or $100 on the site. That means that for occasional users, it can take months before your first payout.
Popular stock photography sites include the following.
Shutterstock
iStock by Getty
Dreamstime
Alamy
Foap
Become a Professional Foot Model
If you yourself have an incredible pair of hoofs, and the modeling is the part that interests you the most, consider becoming a professional foot model. There are dozens of types of niche modeling agencies that are always hunting for new talent. For example, parts modeling agencies specialize in close-ups for hand modeling and, yes, foot modeling too.
Becoming a working model crosses a line from a stay-at-home gig into a big career move. Top professional parts models can earn several hundred dollars per hour, but they'll need to show up for auditions and work with an agent to get gigs. They'll also have to have the people skills necessary to take direction from photographers, videographers, and shoot directors.
Getting a job as a foot model simply requires finding the right modeling agency and making yourself available to them. They'll have some requirements to meet, and you'll want to put together a portfolio of your best shots to market yourself. Since you're entering the world of professional modeling, you'll want a pro photographer to help you with your images.
5 Tips for Foot Photography Success
1. Care For Your Feet
There was an episode of the television show Seinfeld where George Costanza became a professional hand model. He walked around all day in huge padded mittens, refusing to do any manual labor. It ended poorly for George, as it did in every episode. But it doesn't have to end poorly for you.
If your dogs are your lively hood, start taking better care of them! Frequent pedicures are in order. Heck, you can even write them off now!
While you're at it, flip-flops are probably too risky. What if you have a blow-out? And going barefoot–risking broken glass and unsightly dirt? No way.
2. Use Only Excellent Photography
While the subject matter is novel, selling photography online is not. But it is vital to understand that the photography is as important as the foot in foot photography–you cannot sell one without the other.
If your photography skills aren't up to the task, fear not. You don't need to be a professional photographer or to have extensive experience in taking pictures. All you need is the desire to learn more about photography.
The internet is chockablock full of photography how-to articles. The major components you want to concentrate on are composition and lighting. Spend some time learning and practicing the basics, and your photography will improve immediately.
You don't even need professional-level camera equipment to sell foot photos. Many people find success using their smartphone cameras. But, technically perfect photos are always a must. No matter what device took the image, it must be exposed perfectly, with no over or underexposed elements, and be sharply focused. You must be able to use natural light to control shadows and the depth of the image, and you must compose the elements in a way that attracts the viewer's eyes and interest.
3. Practice Toe Poses
Yes, foot models have poses too. Study your competition to see how the professionals do it.
And beyond poses, use props and backgrounds to create more complete compositions. For a better product, each image should be an entire story, framed in a tidy picture. Each element tells a different part of the same story. This is the essence of photographic composition, and having the subject be feet doesn't limit you to the different stories you can tell.
4. Build Your Audience and Fanbase
Online professionals know that the biggest key to success lies in selling a story. Having one excellent foot image can make you a couple of hundred dollars, but being the foot pic guy or gal can make you thousands.
Building a reputation and a fanbase requires a presence on social media and your website and blog. You've got to become the whole package, an expert in your field who consistently produces excellent content. It doesn't happen overnight, but it helps if you start with this mindset from day one.
5. Set Rules and Boundaries
Professionals that work in industries like this carefully set rules and boundaries for themselves. They are careful about privacy and the metadata in their photos. They don't share too much, and they maintain a level of anonymity online.
Feet Pics FAQs
How Much Can You Make for Selling Feet Pics?
This is probably the hardest question to answer. For every post online about someone making hundreds of dollars a day or six figures a year, there are likely hundreds or thousands of folks who did not find any measure of success. Sorry folks, that's the internet for you.
Like any online gig, selling feet pics requires investing your time and maybe a little bit of money. It will also likely take a while before you start to see any real return on your investment. The term "easy money" is often batted around with online businesses, but the truth is it's only "easy" if it's something you enjoy doing. If every part of the process is boring and tedious, it's far from easy.
To answer the question more directly, some users have reported making up to $90,000 a year selling feet pictures. It's impossible to verify these reports, though, and likewise, it's impossible to know precisely what sort of photos they were selling and to whom. But it is not beyond reason to assume that the average person with a knack for the task could eventually make $45,000 to $50,000 annually.
Is Selling Feet Pictures Safe?
The only genuine safety concern with selling images online is maintaining your privacy.
Many cameras are now equipped to record the location that an image is taken. Using a built-in GPS receiver, most photos can pinpoint the location down to the room in your house. This is handy if you are looking through your old photos and want to see pictures from your holiday in Barbuda.
But if you're unaware of the fact and you sell your pictures online, you may be unknowingly giving away your home address. It's probably unwise to give your address to people who are buying pictures of your feet.
To prevent any trouble and to ensure your privacy is secure, use a software program that gives you complete control of the image's metadata. This will enable you to remove details like that.
How Much Should I Charge for Feet Pictures?
Pricing photography sales is a tricky business. If you're working with a stock or foot image selling company, there's not much you can control. They'll negotiate with the customer, and you'll get whatever percentage royalty your contract spells out.
If you're working with customers on your own, it's tougher to come up with prices.
Professional photo buyers working for magazines or websites usually have a price in mind. Their budgets dictate a price per page, half page, quarter page, and so on. With an idea of where they want to put your picture and how large the publication is, you should be able to land on a mutually acceptable price.
Smaller publications and individuals are harder to work with. On the one hand, they've come to you because they like something about your picture. There's some intrinsic value in that. But on the other hand, figuring out how much they can afford to pay requires careful and honest negotiation.
How Do You Sell Pictures of Your Feet for Money?
Selling pictures for money is like any other online business. It involves creating a product people want to buy and getting that product in front of those people. And like any other business, there are probably hundreds of ways to do it successfully.
You'll find websites that specialize in feet pictures, and you'll find websites that will allow you to sell any type of picture. Or, you can use your own marketing to sell your pictures using social media or a website and blog.
If you use a stock photography website, they'll keep a percentage of the sale as a commission. They did, after all, host the picture and do a large part of the work of finding the customers. So, in the end, you'll make less money by going this route.
If you make your own sales by finding your own clients, you have the potential to make a lot more money. But you'll have to dive in with both feet and do a lot of marketing, ad-buying, and client research to find the right customers.
No matter how you shake it, selling feet pictures is a business and will require an investment of time to get it up and running. How much you get out of it is likely a reflection of how much you put into it. If you have no interest in feet or pictures, it will likely be a long haul before you see acceptable profits. But if you find the idea exciting and you have a knack for it, it's a pretty sweet hustle.
Is It Legal to Sell Feet Pics?
There are a few things to keep in mind when selling photos of identifiable people online. First and foremost, you should be well versed in copyright law. You can only resell rights to photos that you yourself own. If you took a photograph, and you have not sold the exclusive rights to that photo to someone else, then you can resell them again and again.
Exclusive use is when you sell the photo to someone, and you tell them that you will not ever sell it to anyone else. This is not very common simply because the power of selling photography online is the ability to sell the same photo again and again.
The second legal issue you must master is that of the model release. For every individual in your photographs, you must have a signed release saying that they give you permission to sell the photograph of them for commercial gain. This includes images of yourself. If you're selling on a commercial stock photography site, they will require this. And yes, even if the image is just of their feet, a release is required.
To sign a modeling release, the individual must be of legal age. For people under 18, that means you'll need the signature of their legal guardian on the form.
Finally, you need to be conscious of the laws and ethical issues involving foot pics. While it's legal and common in places like the US, UK, Canada, Australia, and New Zealand, it may be prohibited in more conservative areas.
Final Thoughts
Don't drag your feet–make money with them! Foot pics are a viable way to earn a little cash while having some fun online. Will it make you rich? Maybe, or maybe not. But the point is bigger than that–hustles like selling foot pictures aren't meant as get-rich-quick schemes for the masses. They are niches that interest some people and provide fun options that we never had before.
If your curiosity is piqued by selling foot pictures, dip your toes in the water and give it a try. And take a pic of the toe-dipping–that might sell well.