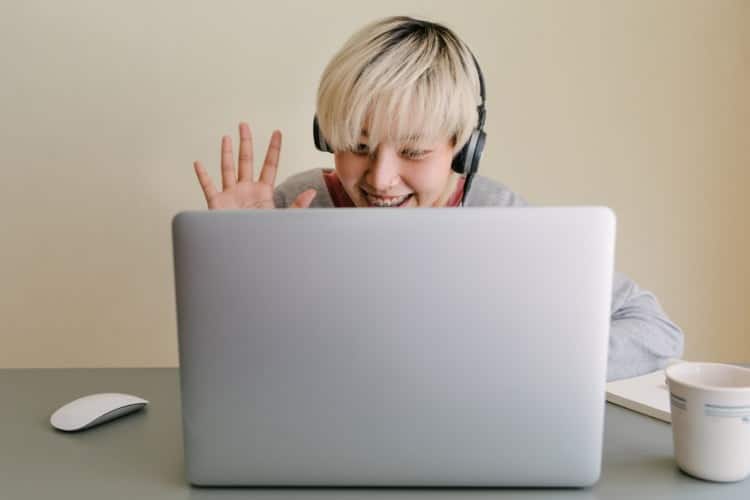 If you're the life of the party, the extrovert that likes to gab, or the Chatty-Kathy who makes friends everywhere you go – the internet was made for you. There are dozens of ways you can make money online simply by using your gift of gab. Let's look at a few of the best ways to get paid to talk to people online.
Can I Get Paid to Chat Online?
Yes! Gigs that pay you to chat online can be divided into four categories. Within these categories, there are many different opportunities available.
Make online friends
Help people learn or master their English
Be a remote customer serivce representative
Get flirty with adult online chatting opportunities
Let's look at each opportunity separately and figure out which one is best for you.
General Online Chat Jobs
First, some services connect you with people who are just looking for someone to talk to. Consider these the 21st century equivalent of the old-school pen pal. In the same category, if you're an expert in your field, you can charge people for consultations.
Can you get paid to talk to lonely people? The website Rent a Friend allows you to set your own rate. The best thing about this company is that they don't even keep a commission, so you get to keep 100 percent of your fee. Most "friends" charge between $15 and $50 per hour.
The other way that you can get paid to chat online is in a more professional capacity. Premium.Chat is used by influencers, coaches, and advisors. It allows you to take questions from their audience and chat with them about topics you know about.
Likewise, freelance sites like Fiverr allow you to advertise your chatting services online. Fiverr will let you post an ad for a set product. For example, you might offer a ten-minute consultation about web marketing. You could sell anything you know about to people looking for advice.
Here are a few places to look if you want to get paid to be an online friend or talk about professional topics.
If chatting online turns out to be something that you're not into, that's fine, did you know that you can get paid to watch ads online? What a time to be alive!
Be an English Teacher Online
There are dozens of companies all over the world that hire people to teach English online. Some have a limited scope and aim to provide a fun way to provide tutors to foreign speakers, while others are dedicated education websites with curriculums.
If you like to talk to people, you can get paid to help someone practice their English conversational skills. This is an excellent way for high-school graduates or college students to make money from home. Most companies that are looking for English tutors are looking for independent contracts.
You are not an employee but a professional providing a service. You'll be responsible for getting and setting up your computer and home office space.
Most companies require a decent computer, headsets, and a webcam. Specific technical requirements will be listed on the company's website. You'll also need internet that is fast enough to video conference from. If your internet can handle a zoom video chat without dropping out or freezing, you should be able to help other people learn English.
Higher-paying English tutoring jobs require Bachelor's degrees, and some require an ESL or TESOL certificate. But, don't panic. If you have a Bachelor's degree, you can usually take a short online course and complete the ESL or TESOL certificate in just a few hours from the comfort of your home.
One of the easiest companies to start with is Cambly. Cambly is a great way to make money by talking to people. No experience or degrees are required. You make $10.20 an hour for the general Cambly program and $12 an hour for Cambly Kids.
You'll get paid once a week via Paypal. Cambly has no minimum hours, and you can set your schedule. These classes are all one-on-one, which means it's just you and one student at a time. Your students come from across the globe, from places like Japan, China, Brazil, Turkey, and even the US.
You'll create a video and text profile, and then students will choose you as their tutor. Students might be beginners, intermediate, or advanced. You might meet a business person looking to practice their big presentation or a tourist preparing to visit New York City. You might meet a college student getting ready to take classes in the US and brush up on their skills.
Most students will just be looking to practice conversation skills with a native speaker. Some will want help with grammar or pronunciation. Tutors find that time flies by as they connect with various students and learn about different cultures.
Cambly Kids pays a little bit more money and provides a structured learning program. Cambly Kids provides lessons already uploaded for each student. All you have to do is follow the lesson plan and listen carefully to the student's speaking skills.
Another option is PalFish, which is an app-based tutoring program. They offer both one-on-one classes and classes with several students. The students are kids, and most of PalFish's students are based in China. You'll need to download the PalFish app. You will need to have a TEFL/TESOL/CELTA certification, but remember, you can earn this quick and easy certification in a few hours from your home computer.
Tutors set their own pay rates. You can start off charging less, and as you get more popular, you can charge more. Tutors usually start as low as $10 an hour and can make up to $30 an hour.
If you have a college degree, there are a few better-paying online chat jobs you might want to consider. These companies write their curriculum and are more focused on being educational. You, as a tutor, just follow the curriculum, which makes it much more like being a teacher with proper lessons you must follow.
Tutors allow the student to speak while listening for pronunciation and grammar errors. You'll then correct the errors and move on. Students learn English in school but want to practice their speaking skills with a native teacher.
VIPKid is probably the biggest English tutoring service around. This company focuses on teaching students aged 4 to 12 who are based in China. If you are based in the US, you'll be teaching early mornings or evenings to accommodate the time difference.
You must have a Bachelor's degree and be able to get a TESOL/TEFL. You'll do a demo lesson to show off your tutoring skills. VIPKid offers some of the best pay incentives, with tutors making between $16 to $25 an hour. You'll teach each student one-on-one.
Magic Ears is another popular company offering classes to young learners based in China. Magic Ears has a one-to-many program. You'll teach four students at a time. Magic Ears offers good pay, ranging from $16-$25 an hour. GoGoKids pays $14 to $25 an hour and offers classes to young students in China.
Here's a list of the companies that will pay you to chat and help foreigners learn English.
Cambly
Palfish
VIPKid
Magic Ears
GoGoKids
italki
iTutorGroup
Whales English
Dada Kids
Customer Support Representative From Home
There are tons of companies that hire remote workers to man their telephone lines and text chat support services. These are some of the highest-paying chat jobs available right now, with some workers making between $10 and $50 per hour.
Here are just a few of the everyday companies that hire remote workers for chat positions. These massive companies have discovered the power of using remote workers to fill positions in their organizations. These aren't like other work-from-home gigs – these opportunities provide you with the chance to have a part or full-time job for a major organization.
Amazon
1-800-FLOWERS
American Express
Home Shopping Network (HSN)
Groupon
Teleflora
There are also plenty of gig-work opportunities if you'd like to work as a CSR from home. Here's a list of companies that hire independent contractors to work for other companies as chat or telephone support representatives.
LiveWorld
Accolade Support
Live Sales Staff
The Chat Shop
Just Answer
Flirt For a Living — Jobs Online
Last but not least, there are flirty online chat jobs. These jobs are primarily websites where men give you money to chat with them. The amount of adult content varies from website to website, but there is enough competition in the marketplace to allow you to pick and choose who you work with.
Some sites are texting only, while others have voice or webcam options. Some are geared toward companionship and helping folks out of a lonely situation, while others are about much more racy content. Some sites employ you as a contractor, while others are job sites where you can advertise your services.
Phrendly
FlirtBucks
MyGirlFund
Adult Chat Jobs
Chat Recruit
Paid Chat FAQs
Is it safe to get paid to chat online?
In general, yes it is. But like all online endeavors, don't let the thought of a payday overrule your common sense. Here are a few tips for staying safe when getting paid to chat on the internet.
Some tips:
1. Never reveal your personal information, including your name or location
2. Never reveal your full name, and pick a nickname that doesn't give your real name away
3. Sign up only for platforms that let you choose which service you're comfortable providing
4. Never do anything you aren't comfortable with
5. Read all of the terms and conditions of employment before agreeing
6. Research companies thoroughly to see reviews from other workers
How can I get people to pay me online?
Depending on the company you want to work for, you might be paid in several different ways. For example, if you are paid as an independent contractor, payments are more often than not paid through Paypal. Another popular payment processing service is Payoneer.
If you're working for a big company, they'll likely add you to their payroll department. In this case, you'll provide them with your direct deposit information. If this is the case, you'll want to be very sure about the company before providing the information. If it's a big company with a formal hiring process, you will have nothing to worry about it.
How do paid-to-chat jobs work?
What your day-to-day work life looks like depends significantly on the type of get-paid-to-chat job you want to do. For example, if you're working as a customer service representative for a big company, you might have a typical 9:00 to 5:00 job, just in front of your computer instead of driving to an office.
If you're teaching Chinese students, you might be working odd hours due to the time difference. If you're in the United States, it will undoubtedly mean working late into the night or getting up super early.
If you are chatting on an adult website, you'll likely schedule your day around when most people are online. So it might be late at night, or it might also be during regular work hours.
The other big variable is what type of employee you are. If you are doing contract or gig work, you can pretty much work as little or as much as you please, when you please. There's no overtime or scheduling done on the part of the company–you work and get paid for what you want.
Final Thoughts
When you dig into the details, there are many ways to get paid to talk to people online. Of course, not every opportunity is appropriate for every situation, but there are enough options that you can use these sites to supplement your income more than you might think.
From full-time work to the occasional gig for a few bucks, chatting online is an exciting 21st-century option that wasn't even imaginable a few decades ago.