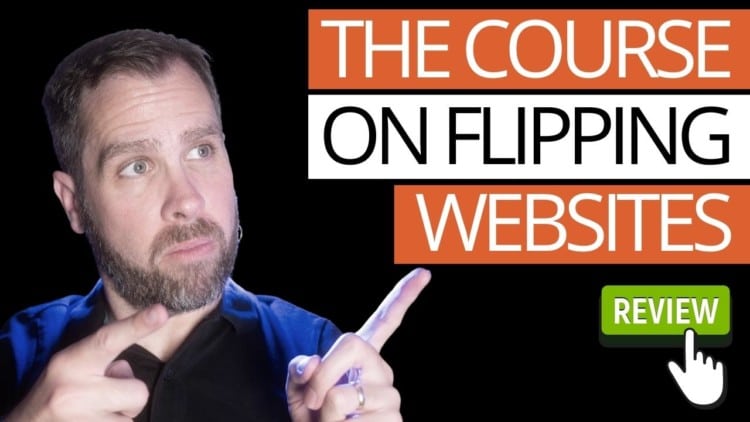 Mushfiq gave me free access to The Course on Website Flipping in exchange for me writing a review.
I agreed that I would provide a balanced (brutally honest) account of my experiences by mentioning the pros as well as any cons.
I completed the course in about 6 hours (I was able to slightly speed up the playback).
The review you're about to read is entirely my subjective opinion.
The Elevator Pitch: The Course on Website Flipping includes several modules covering the full spectrum of acquiring, growing and selling a website for profit.
The Cost: The current pricing can be checked here.
The Pros: Well structured, no BS, no waffle, very succint delivery. The course creator is someone in the trenches who practices what he preaches and has obvious success.
The Cons: Very few cons. Some minor ommissions (in my opinion), see below.
The Bottom Line: Overall, I'm happy to recommend the The Course On Website Flipping. It's worth it.
First, a little bit about me. I am by no means an experienced website flipper. At the time of writing, I've only purchased one website and sold another. Both deals were private, off-market and had significant face-to-face negotiations, due diligence and legal documentation.
I'm more of a website operator, although I intend to manoeuvre towards the website flipping model eventually.
Enough about me.
What's this Course About?
The course is about acquiring content websites, applying growth strategies, and selling them later for a profit.
Who Is This Course Ideal For?
The Course on Website Flipping is ideal for people with experience building their own content websites.
It's also a suitable course for more experienced website flippers who want to adopt a more structured framework for flipping websites.
Get The Course
Who Is the Course Instructor?
The course creator is Mushfiq Sarker. He is a highly-experienced and prolific website flipper who has been in the industry for over a decade. Mushfiq presents the course.
Mushfiq states that he has executed 180+ successful website flips.
He runs a number of online brands, many of which come under his flagship brand, The Website Flip.
The Website Flip initially started as a highly curated newsletter and has since expanded into a popular blog and a number of related digital products.
One such related product is Easywins. You can read my Easywins.io Review here.
Now, let's get into this.
The Course on Website Flipping Review
Pros: What I Liked
Well-structured course module layout that covers the entire spectrum of flipping websites.
The course creator is one of the most prolific website flippers in the industry – you'll find it difficult to find an alternative tutor with more experience.
Short individual videos that break up everything into bite-sized chunks.
Clear, concise instruction with no waffle or fluff.
Jargon and terminology is explained early on.
Realistic expectations are set in that "your mileage may vary".
Lots of practical, real-life examples are given throughout.
The course isn't locked down to recommending just one broker or marketplace. All of the big players are mentioned and given proportional representation.
Course materials included: profit and loss templates, job spec for website operators, raw data from 39 previous flips, and more.
I like how he links out to further reading if you want to go deeper on a given topic.
Discounts for Mushfiq's paid tools are included.
Cons: What Could Be Improved
Honestly, not much. I feel I'm only nitpicking here with my points for improvement. None of them are dealbreakers in my opinion.
No mention of the legal paperwork side of buying or selling a website e.g. contracts or NDAs. While I appreciate that Mushfiq is not a lawyer, I think there should be a small module about the importance of seeking independent legal advice, particularly for inexperienced flippers or if the deal involves a lot of money. (I was buried in paperwork for the bigger deal that I was involved in).
Missing an over-the-shoulder video of exactly how Mushfiq actually finds the diamonds in the rough (under-valued websites) on the various marketplaces.
I think the course warrants a separate module on the various add-backs that brokers and experienced buyers tend to concern themselves with.
Occasional minor distractions when the screen-recording software controls cover small sections of the slide content.
Audio quality could be improved. There were occasional distracting background noises such as passing vehicles and bangs etc. (no biggie)
It took me a while to realize that helpful notes are presented underneath some of the videos.
No subtitles on the videos for accessibility.
Get The Course
Course Structure
Overall, I believe the Course on Website Flipping is very well structured by the way it is organized into topics.
Each subtopic is given its own bite-sized video so that it is easier to digest.
Module 1 – Introduction
This opening module sets the scene by looking at a high-level overview of website flipping.
Module 2 – Website Flip Lifecycle
This module takes a deep dive into the 5-stage lifecycle of website flipping.
Module 3 – Finding Sites to Buy
In this module, Mushfiq explains the process of where to look for website purchase deals. I personally felt that this section would benefit from an over-the-shoulder video from Mushfiq where he locates an under-valued site available for purchase. I appreciate that this process is highly nuanced, and also, the really super deals probably only come along once a year or so!
Module 4 – Website Valuations
This module explores how valuations are calculated. Website multiples are discussed at length.
Module 5 – Due Diligence
This important module covers the basics of what red flags to look out for on a deal. The due diligence framework is discussed.
Module 6 – Growing the Site
In this module, Mushfiq talks about the various tactics that can be used to grow the site.
Module 7 – Positioning for Sale
An informative module that talks about the steps you can take to ensure the highest exit price for the asset.
Module 8 – Executing the Sale
This module covers how to prepare your website for sale. I felt this section should include a module that talks briefly about the legal aspects of executing a sale. (As in, get legal advice, particularly if the deal flow is above a certain value).
Bonus Material
The bonus material includes a module that discusses the importance of Google Core Updates and how they affect the website flipping industry.
I really liked that particular bonus module because of how topical it is at the time of writing this review.
Another bonus module covers how to find and manage a website operator to help with the day-to-day running of the website.
Get The Course
How Much Does the Course on Website Flipping Cost?
The latest pricing of the course can be found here.
Alternatives to the Course on Website Flipping
There isn't an abundance of quality alternative courses that cover the topic of website flipping in depth.
However, there are some courses on Udemy that cover this topic, but they're not rated very high by the previous students. (That's why I'm not linking out to them here).
Shawna Newman has two courses that look solid (I've yet to take them). Based on her other courses I've taken, I'm confident they'll be solid:
Bottom Line: Is the Course on Website Flipping Worth It?
The bottom line is, yes, The Course on Website Flipping is worth it. The course gives a comprehensive overview of the entire site flipping business model.
It also adequately warns students of the various red flags and risks associated with flipping websites.
While some topics could have been explored in a bit more depth (the legal side of things and the actual process of discovering the hidden gems of undervalued assets), the overall course is still excellent.
Overall, I'm happy to recommend Mushfiq's Course On Website Flipping.
Get The Course
Frequently Asked Questions
Is Website Flipping Easy?
No, I don't think website flipping is easy for beginners. Website flipping involves a lot of different disciplines and technical knowledge. It's something that can absolutely be learned by experience.
A good course (The Course On Website Flipping) will provide a good foundational grounding for getting started.
Is it Possible to Earn a Full Time Living from Flipping Websites?
Yes, it is possible to earn a full-time living from flipping websites. Mushfiq is only one such individual.
There are many more professional website flippers out there. Some have public personas, but most are in the background keeping a lower profile.
Is it Legal to Flip Websites?
Yes, as long as all transactions are at arms-length and no fraud is committed, it is perfectly legal to flip websites.
Get The Course