If you're thinking of starting a blog or niche website, you're probably curious about how much it can potentially earn.
While every website is different, so too is every niche and site operator. The entire process of building a blog is incredibly nuanced and, there is NO framework that can guarantee absolute success.
With that said, I've created this blogging income report series to help track my personal journey. Your journey could be very different.
NOTE: This income report does NOT include all sites from my portfolio. Also, it does NOT include any income from Minted Empire (this blog, my newsletter, or my YouTube Channel). Minted Empire is something I do in my spare time, and any income I earn there usually ends up being reinvested into my niche sites.
Let's dive in!
Overview of February 2022's Performance
February, being in the middle of Q1, tends to see lower earnings from display ads. It's just the way it is. Q4 tends to have the highest earnings.
This month saw a slight increase in earnings and this was due to an increase in earnings from Amazon.
Breakdown of Selected Sites To Review
I have selected 3 sites to focus my income reports on:
Site 1:
Started: June 2020
Niche: Hobby / Tech
Number of published posts: 189 (1 added in the month)
Number of published words: 260,176 (4,671 added in the month)
Monetization: Display Ads (Ezoic) & Affiliate (mostly Amazon Associates)
Site 2:
Started: September 2020
Niche: Lifestyle
Number of published posts: 60 (3 published within the month)
Number of published words: 104,412 (6,329 published within the month)
Monetization: Display Ads (Ezoic)
Site 3:
Started: December 2020
Niche: Pets
Number of published posts: 96
Number of published words: 115,490
Monetization: Display Ads (Ezoic)
I hadn't worked on Site 2 and Site 3 since August and October 2021 respectively.
As planned, I started publishing again on these sites in Feb/March 2022.
Site 1 has a start/stop history. After working on it for a few months in 2020, I didn't see any traction (that's normal), and I decided to pause working on it (I regret that now).
Site 1 is in an incredibly competitive niche dominated by massive global companies. I do have an interest in the niche, but knowing what I know now, I probably would have entered a less competitive space.
At the beginning of 2021, I decided to give Site 1 another shot, but I didn't go all in because I was distracted by other sites and other shiny objects. In November 2021, I went fully in on Site 1.
Currently, on Site 1, more than half of the entire content has been published within the last two months of 2021. (I'm proud of that achievement).
However, the relatively large volume of published content on Site 1 has yet to emerge from the proverbial Google Sandbox. I'm pausing production for a few weeks until I can assess which types of posts are performing well. I'm using this time saved to add videos to Ezoic (for monetisation) and also to kickstart Site 2 and 3 that I had paused for a while.
Income
Overall Earnings This Month By Niche Site
Site 1: $485 (previous month $383)
Site 2: $125 (previous month $146)
Site 3: $61 (previous month $76)
Total Earnings From This Selection of Sites: $672
Niche Website Earnings by Source
Ezoic: $288
Amazon Associates Affiliate Program: $354
Other Affiliate: $30
Total Earnings From This Selection of Sites: $672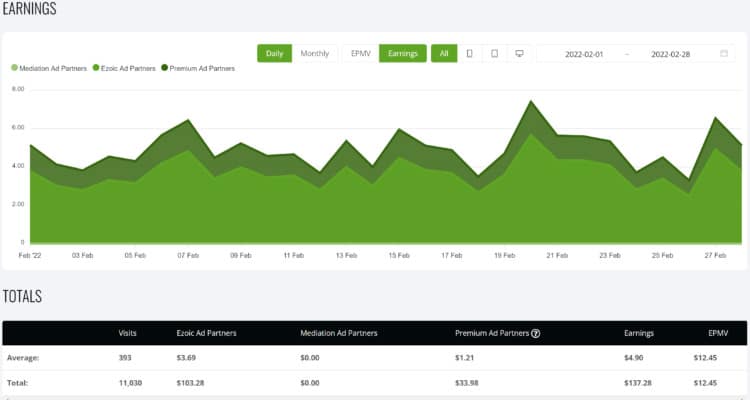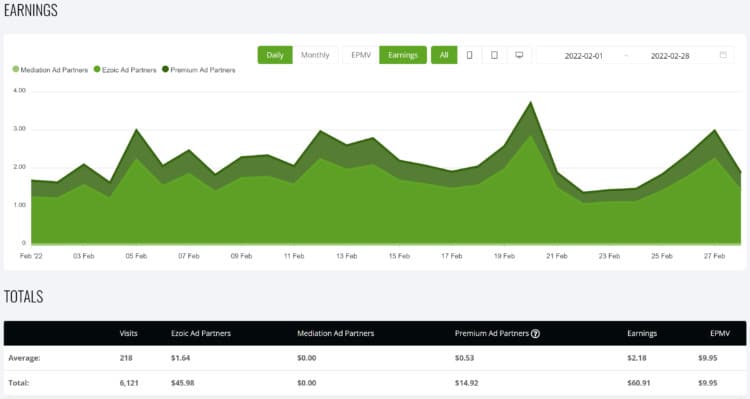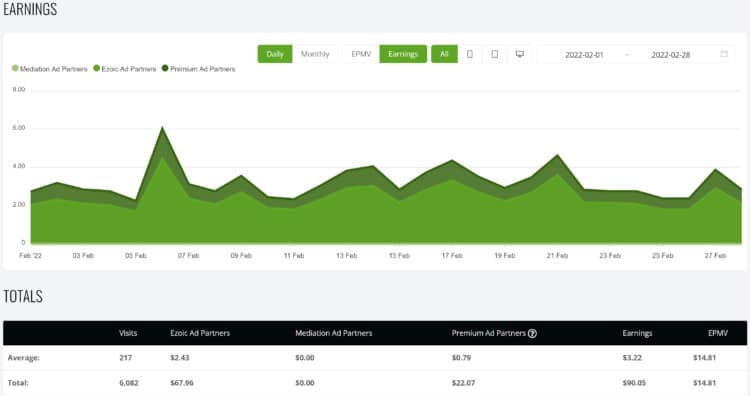 Outgoings
Running any website or blog involves having expenses. I could run extremely lean and just have my hosting costs if I wanted.
However, I'm playing the long game, and I don't mind paying for tools/services that save me time and mental energy and make the blogging journey a little easier.
Breakdown of Expenses For This Month
Like many others in the industry, I don't view content costs as an expense. Investing in good content is exactly that – an investment in the site. I'll list my content costs separately below.
Hosting (CloudWays are super fast for WordPress sites!): $27.50
Ezoic Premium: $58
SerpRobot: $10
Content Investment
I've built my own team of freelance writers. I manage them via Trello & Slack. I pay a maximum of 3 cents per word for the content they produce. I'm very happy with the quality.
Content Costs
Site 1: $304 (estimated, might change slightly when all of their invoices come in)
Site 2: $126 (estimated, might change slightly when all of their invoices come in)
That's the end of the income report. Now, let's take a quick look at the traffic stats and publishing progress.
Publishing Performance
New Posts Published This Month
Site 1: 1 (total posts: 189)
Site 2: 3 (total posts: 60)
Site 3: 0 (total posts: 96)
Traffic Stats for Current Month
Site 1: 10,899 pageviews (previous month 12,713)
Site 2: 6,473 pageviews (previous month 6,618)
Site 3: 5,579 pageviews (previous month 5,933)